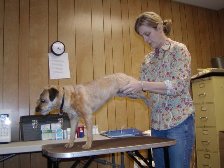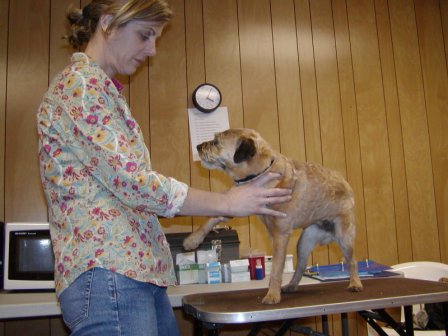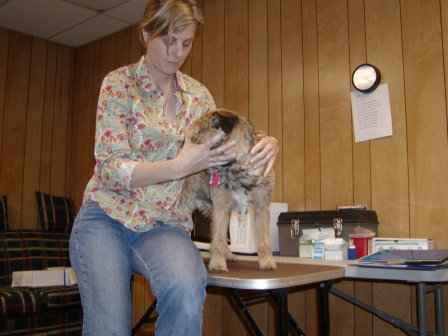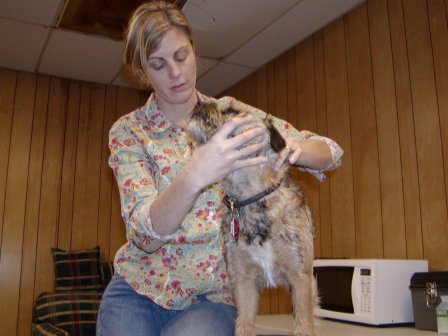 For more information, contact Karen Jacobs at Reykarjacobs@aol.com or at 540/798-7596.
At SCCTC, we enjoy training and working with our dogs, but we also know the importance of keeping our athletic dogs fit and healthy. One of the ways our club members, students, and others support their dogs throughout their dog's active lives is to provide them with veterinary chiropractic and acupuncture treatments, available at our club facility.
Each month, Dr. Nellie Bierly, a veterinarian and canine chiropractor and acupuncturist, visits our club location to treat dogs belonging to our members, students, and clients from the Roanoke community.
Chiropractic care helps a dog's muscle-skeletal structure to remain in adjustment and capable of its full range of motion, thereby working to avoid injury and allowing the dog to remain comfortable and sound during his active life and in his later years. Chiropractic care supports the healing of joints and muscles, and a chiropractic evaluation can pinpoint structural problems before they become disabling. Dr. Nellie includes soft tissue massage and stretching exercises to help muscles support a newly adjusted skeletal structure and retain proper alignment.
Acupuncture supports the flow of healthy, healing energy throughout a dog's body.
Both of these therapies can help puppies and young dogs, adult dogs, and senior dogs.
Canine chiropractic and acupuncture care at SCCTC is available for club members, for students enrolled in the club's classes, and, as a community service for the general public. Dr. Bierly establishes all charges and conditions of treatments. The club does not collect any fees from any source for this service.  For more information, contact Karen Jacobs at Reykarjacobs@aol.com or at 540/798-7596.