Our History
An IDEA Among Two Friends made history!:
Our history stated on a road trip from Roanoke to Wiz Kids Dog Camp in Pennsylvania in early 1995. Two friends, Kaffa Shank and Karen Hough, talked about forming an obedience and agility dog training club in Roanoke. These ladies, and a handful of Roanoke dog training enthusiasts, regularly traveled the two-hour round trip from Roanoke to the Dog Obedience Training Club of Lynchburg (DOTC) to attend obedience classes. Only a few private trainers offered Roanoke-based obedience classes, and only on an unpredictable and intermittent schedule.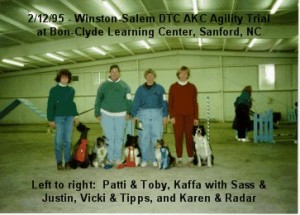 Officially Incorporated on August 1, 1995:
On June 26, 1995, Kaffa Shank was elected President. Richard Ericson was elected Treasurer; Karen Hough, Secretary; and Sally Craver and Lee Fitzgerald, Board members. These members developed the club's Constitution and By-Laws, its mission and vision. On July 31, 1995, Star City Canine Club was born, parented by approximately 30 charter members, who donated personal funds to help launch the club and thus made history!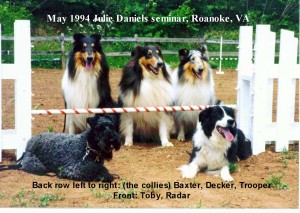 Humble Beginnings:
Monthly meetings moved to the break room at Roanoke Concrete Readi-Mix, thanks to David Lindsey. Committees were formed to organize club activities including training, publicity, events and membership, and Lindsey was elected Vice-President. The first training committee established guidelines for classes and instructor qualifications, and accepted its first volunteer instructors from the membership.
The search for a location to hold classes ended at a familiar place: the break room at Roanoke Concrete Readi-Mix. The club offered its first obedience classes in January 1996.
At the January club meeting, members voted on training fees, and adopted a sliding scale for members to pay annual fees on a quarterly schedule. The club gave members access to the club's training facility to train on their own time. In February 1996, the club rented a small warehouse on Colorado Street in Salem. In 1997, the club instituted the Star City Bucks program as a way to encourage and reward volunteer instructors and class assistants by allowing them to accumulate "earnings" to be applied toward instructor education and other enrichment programs.
The club approved an agility certification program in 1998, in which training members demonstrated their knowledge of the safe and appropriate use of the club's agility equipment. The club then certified the member to use the equipment outside of agility class time.
Having grown to almost 100 members, the club moved to a larger facility in Salem in June 2001. Today, most of these club members actively train and show their dogs and participate in many dog-related events.
Diverse Activities:
The club's activities reflect the diversity of the membership's interest in all things related to dogs and has grown throughout the history of our club:
Obedience show-and go's at Fishburn and Walrond Park
First aid presentations
Membership in the Virginia Federation of Dog Clubs and Breeders
Open House parties with TV coverage
Buying and building agility equipment
Agility show-and-gos at Green Hill Park
Interacting with Roanoke city officials regarding restrictive dog ordinances and other legislative issues
Participation in Clean Valley Day
Temperament Testing
American Kennel Club (AKC) Canine Good Citizen (CGC) program
Therapy Dog testing
Nursing home visits
Agility and obedience demonstrations
Pet Contests
Club Internet site and shared email list
Club merchandise sales
North American Dog Agility Council(NADAC)sanctioned agility trials
AKC licensed obedience and agility trials
United States Dog Agility Association(USDAA)trials
Pursuing AKC licensing to hold tracking tests
A.K.C. Affiliation:
In August 2004, the club changed its name to Star City Canine Training Club, Inc. to meet the requirements for AKC licensing.
In December 2005 we obtained licensing from AKC to hold obedience and agility trials. We held our first United States Dog Agility Association (USDAA) trial in November 2005 which was a major accomplishment in the history of our club .
Our Vision and Accomplishments:
OUR DOGS ARE GOING PLACES AND YOURS CAN, TOO!
Our accomplishments are a tribute to the vision and dedication of the founding members, and the commitment of all club members through the years. The club owns ring gating, obedience mats and jumps, and two complete sets of agility equipment. In 2015 we purchased our first real estate, the Mudlick Field to host our agility training. The Roanoke Valley recognizes the club as the source for quality dog training provided by knowledgeable, caring instructors and assistants.
The club continues to invest in its building fund, hoping to make real the dream of owning a "country club for dogs", where we can all train and play with our canine companions, indoors and outdoors, safely, all year around.
Star City Canine Training Club is a 501C(4) tax-exempt, nonprofit organization. Money raised through class fees, events, and donations fund operating costs and help to support other nonprofit organizations. Contributions to our organization are not tax deductible.