Pet Therapy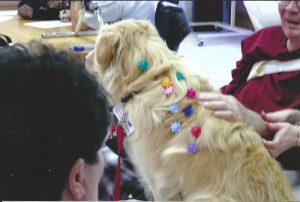 Many of our club members and dogs support our local community with Pet Therapy (PT) Visits. We visit in hospital settings, nursing homes, assisted living and other facilities and participate in reading and recreational programs at libraries, schools, area colleges and non-profit organizations.
We proudly support the PT Program of Pet Partners, Inc. Several of our members are licensed PT Team Evaluators and Instructors by Pet Partners, Inc. As such we are able to provide exceptional PT Team training and regional PT Team evaluation support. To learn more visit: Pet Partners, Inc.
The American Kennel Club (AKC) has received frequent, ongoing requests from dog owners who participate in therapy work to "acknowledge the great work our dogs are doing." Earning an AKC Therapy Dog title builds on the skills taught in the AKC S.T.A.R. Puppy® and Canine Good Citizen® programs which create a sound and friendly temperament needed by a successful therapy dog.To learn more visit: American Kennel Club (AKC)
AKC THERAPY DOG TITLES:
AKC Therapy Dog Novice (THDN)-Must have completed 10 visits.
AKC Therapy Dog (THD)-Must have completed 50 visits.
AKC Therapy Dog Advanced (THDA)-Must have completed 100 visits.
AKC Therapy Dog Excellent (THDX)-Must have completed 200 visits.
AKC Therapy Dog Distinguished (THDD)-Must have completed 400 visits.
Contact Us With Your Pet Therapy Questions
If you are a registered Pet Therapy team already, or would like to become one, or if you are an organization who would like for Pet Therapy teams to visit, please contact us! We will be glad to help you get started and to involve you in future Pet Therapy visitation opportunities.

Promoting Non-Profit Canine Organizations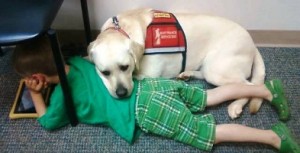 Every year we select an organization and help to promote their mission. For 2016 we are focusing our support on St. Francis Service Dog Organization, Roanoke, Virginia. To learn more about St. Francis visit their website at: www.saintfrancisdogs.org
Assisting Non-Profit Animal Organizations
Our members offer assistance to local shelters, pounds and animal rescue organizations by fostering animals, donating food and supplies and assisting with training as needed.