THINGS TO KNOW BEFORE REGISTERING FOR AGILITY CLASSES
THINGS TO KNOW BEFORE REGISTERING FOR AGILITY CLASSES:
Enrollment in classes is open to club members and the public on a first-come first-served basis. Application deadline is 5 days before first class.
We reserve the right to cancel a class if there is not sufficient interest and will send email confirmations of acceptance or cancellation of class.
All agility dog owners must provide proof of current rabies vaccination before they are permitted to participate.
Dates for the first class are indicated and continue consecutively, unless otherwise indicated for weather related or other rescheduling.
Classes are generally limited to 6 to 8 dog teams and will be listed in description.
Agility foundational classes are 7 weeks at a cost of $140.00, Intermediate level and above are 6 weeks at a cost of $120.00. Instructors have preference and class length is listed in description.
Dogs are to be on leash or secured in cars/crates at all times when not training in the secured ring.
SCCTC classes are taught using proactive and positive reinforcement training techniques that include the use of food, toys, and praise as rewards for correct behavior.
We do not specialize in addressing aggressive canine behavioral issues and do not offer private training classes. We gladly provide training referral information to you as to where you may find support.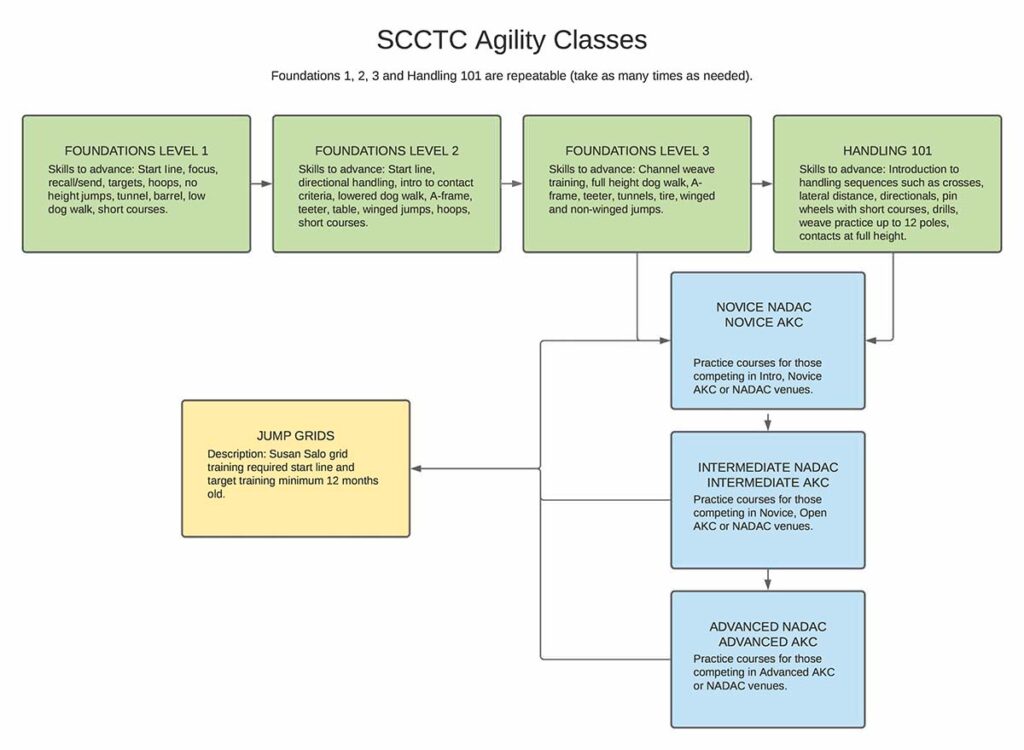 Dog Safety:
Retractable leads should not be used on club property.
Keep ring gate openings free.
Maintain a minimum of 8 feet on leash between dogs at all times.
Hold your leash close to the dog's collar when moving past other handlers and their dogs or while simply standing and waiting. This control position allows you to react quickly to move your dog away from others who may be overly excited or nervous while passing.
Females in season will be allowed in class/events only with approval of the Instructor. Please consult with your class instructor PRIOR to bringing her to class.
Doggie Rest Area:
There are designated areas to potty your dog. Please provide your own pick up bags and deposit in the roadside trash can. When you come to the field, please make it a habit to take your dog to the potty zone prior to class. There should be no incidents inside the fenced ring. If your dog has a potty accident in the ring, there is a bottle of vinegar water for you to spray area.
Report Illness:
If your dog becomes ill with a contagious illness, such as kennel cough, contact your instructor immediately so the club may take appropriate action to limit the spread of disease.
Winter Weather Policy:
SCCTC follows the Roanoke County Public School weather delay and closing schedule. However, check with your instructor as weather conditions may change throughout the day to allow classes to be held.
When schools are delayed, SCCTC morning classes will not be held.
When classes are held on weekends, you will be notified by the instructor.
For Indoor agility classes: Please refer to Obedience/Rally Things to Know.
We look forward to helping you achieve your goals with your canine companion!